The "Sweetwater" Trauma Kit – Mountain Man Medical
$49.99 – $65.99
Description
The Sweetwater Kit is named for the Sweetwater River in Wyoming which was one of the most common routes for Mountain Men of the 1800s when traveling to trading posts and rendezvous. The river is relatively small with some rough patches but was a critical and essential waterway to any mountain man.
The Sweetwater Kit is the smallest and simplest Trauma kit from Mountain Man Medical. It includes the bare minimum essentials for emergency medicine with a price tag under $50. When designing this kit the team set out to build something that they felt would suffice for 80% of emergencies but could be sold for under $50 to ensure affordability for every American adult and household.
Also, when putting this kit together the team focused on compact components. This kit can easily be repurposed to a smaller pouch or an ankle IFAK or cargo pocket. Mini compression bandage, mini marker, small shears, tightly bundled gloves, and 2-inch gauze and bandages are some of the keys to that overall compact delivery.
Quick Specs:
Outside dimensions: 7″ tall x 5″ wide x 4″ deep
Weight: Varies from 12.3oz to 13.4oz depending on the options your select
Contents Include:
"Falcon" Pouch with First Aid Patch in Black or Red
This pouch is the perfect size to hold your medical gear without taking up a lot of space in a backpack, vehicle, range bag etc.
Made from a strong nylon that will not tear or rip. Equipped with SBS zippers and featuring a 3x2inch velcro patch receiver equipped with a 2x2inch Patch (patch not shown below).
Inside the pouch, you will find specially designed storage and organizer straps and pockets.
Dimensions (Not including carry handle):
Height: 7.5 inches | 19 cm
Width: 4.3 inches | 11 cm
Depth: 2.5 inches | 16.5 cm
The pouch empty weighs 7oz
Your Choice of Tourniquet
Choose to include either the SWAT-T, CAT (Combat Application Tourniquet), or SOF-T Wide from Tacmed.
The SWAT-T is a versatile proven tourniquet. Just wrap and stretch using the instructions printed on the tourniquet itself to ensure proper application. Unlike many popular tourniquets it can be applied on animals or any appendage. It can also double as a compression bandage in a pinch.
The C-A-T and SOF-T tourniquets are both TCCC approved for combat use and have been the industry standard for tourniquets for decades. Easy to self-apply and fast and quick to slack with windlass. Please note we only sell genuine tourniquets. These are NOT fake counterfeits. For more information on the differences between these tourniquets review this video.
TacMed Tramedic Trauma Bandage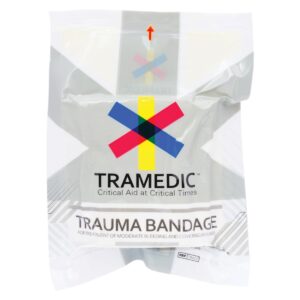 The Tramedic® Trauma Bandage is a simple, effective pressure dressing designed to treat non-life threatening hemorrhaging. It utilizes an elastic wrap material that can be used to generate pressure and a sterile wound pad that can be placed directly over the injury to aid the control of bleeding. The bandage is flat folded and vacuum-sealed to create a low profile so it can be easily stored.
2 Pairs Large Nitrile Gloves
These heavy-duty strength gloves (5-mil thick) are made from medical grade synthetic rubber. They are puncture-resistant, stretchable and ambidextrous. They are disposable and designed for single use. These are size Large, designed to fit an overwhelming majority of American adults.
They are individually pre-wrapped in pairs and packaged for easy and fast deployment. Designed to fit in ankle cuffs and other compact IFAK pouches and carriers.
Nitrile gloves are a superior alternative to traditional latex as they offer greater durability, chemical resistance and control while simultaneously being non-allergenic. Take comfort in knowing these gloves are Latex-Free and Powder-Free.
Each Sweetwater Kit comes with 2 Pair (4 gloves)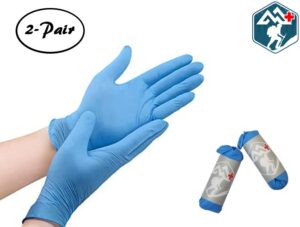 Trauma Shears
Tested by our team with simple fabrics, cotton & poly blends, thick fleece, multiple layers of denim, through seams, with gauze & elastic bandages, tape, and much much more. Will cut right the first time through anything you need without any separation between the blades or weakness in the pivot point.
They will fit in any IFAK or medical kit at only 14.5cm long. Professionally designed for doctors, nurses, EMT & EMS. Blunt tips keep your patient safe.
Black Permanent Mini Marker
Permanent ink writes on paper, plastic, metal, skin, fabric, and most other surfaces. Smear resistant ink dries quickly and resists fading and water.
Cap can be easily attached to a keychain or zipper pull for convenience. Tested by our team on simple fabrics, skin, tourniquets, elastic bandages, tape, and much more.
Compressed Gauze Z-Fold – 4.5 inches x 4.1 yards
Emergency Krinkle gauze that is compressed for easier and more compact transportation of emergency dressings. This compressed crinkle gauze expands and is highly absorbent to cover larger wounds. Made of pre-washed, fluff-dried woven gauze that is soft and absorbent. Folded and compressed this bandage will expand to cover a large area or wound.
1 Elastic Wrap Bandage Hook/Loop Self-Closure – 2 inch x 5 yards (Dynarex)
High-quality elastic bandage with convenient hook and loop self-closure so you can easily self apply without trying to use clips or other common systems. Made from a cotton / polyester knit construction for moderate compression treatment.