ASP Range Kit
$209.99
Available on backorder
Description
Introducing the Active Self Protection Range Kit. This kit was built out by John Correia and the rest of the team at Active Self Protection.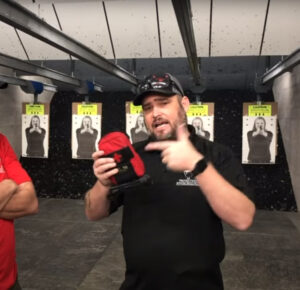 John is an industry expert on the analysis of gunfights having studied over 30,000 of them. As a dedicated student and sought out instructor John and his team have assembled this trauma kit using the highest quality name-brand components available on the market today.
First, the kit includes the Wilderness Tactical ASP FTK Pouch. Made in the USA, the bright red pouch has been tested for years by John and his team. It strategically positions a tourniquet on the outside of the pouch for quick access and can quickly and securely be added to your belt during a range session. The pouch also has a strong Hook/Loop receiving zone on the front of the bag and comes with a Red-Cross standard medical patch.
2x Combat Application Tourniquet (CAT) from North American Rescue. The patented C-A-T is a true one-handed tourniquet proven to be 100% effective by the U.S. Army's Institute of Surgical Research. Tests proved that the C-A-T completely occluded blood flow of an extremity in the event of a traumatic wound with significant hemorrhage. The current TQ of choice by the US Military and among the most used and recognized tourniquets in the world. Your kit will include 2.
1x 4″ Israeli Style Pressure Bandage from Dynarex. A traditional Israeli Style bandage in a vacuum-sealed package that combines a thick non-adherent dressing, elastic bandage, pressure applicator, and closure clip in a single unit.
2 Pairs of Nitrile Gloves. These are durable, non-allergenic, heavy-duty nitrile gloves designed to be easy to pack and fast to deploy. These are size Large, designed to fit an overwhelming majority of American adults. Gloves are blue.
1 Pair of Trauma Shears. Made with quality in mind these shears have been tested to ensure they will hold up to critical medical incidents and trauma. These EMT Shears will fit in any IFAK or medical kit at only 14.5cm long.
2x North American Rescue Hyfin Compact Chest Seals. Designed with 3-vented channels that allow air to escape the chest cavity during exhalation but prevents air from entering through the injury site during inhalation. Each HyFin Vent Compact Chest Seal is 4.75" x 4.75" and made with advanced adhesive to provide a superior adhesion in the most adverse conditions, including sweaty or hairy casualties.
1 ChitoGauze (3″ x 4yd Z-Fold). HemCon® ChitoGauze® XR PRO is a revolutionary hemostatic dressing for the external, temporary control of severely bleeding wounds. This dressing features a polyester/rayon blend non-woven medical gauze that is coated with chitosan. It is Z-folded and packaged in a vacuum-sealed pouch that is compact, rugged and features Red-Tip Technology®.
1x Compressed Krinkle Gauze from Dynarex. Made of pre-washed, fluff-dried woven gauze that is soft and absorbent. Folded and compressed this bandage will expand to cover a large area or wound. Single-use, sterile gauze dressing measures 4.5 inches by 4.1 yards when open and unfolded. The compressed size is 2 5/8 x 2 1/8 inches.
1x Mini Black marker. For use in taking notes during a critical incident, mark time on a tourniquet, etc. Permanent ink writes on paper, plastic, metal, skin, fabric, and most other surfaces. Smear resistant ink dries quickly and resists fading and water.