BIG ASP Trauma Kit
$245.00
Introducing the Active Self Protection BIG Trauma Kit. This kit was built out by John Correia and the rest of the team at Active Self Protection.
John is an industry expert on the analysis of gunfights having studied over 30,000 of them. As a dedicated student and sought out instructor John and his team has assembled this trauma kit using the highest quality name-brand components available on the market today.
**This kit is intended for ideal use in a vehicle, for an outdoor adventure, for small public venues such as churches, for emergency staging in a home, etc.
Available on backorder
Description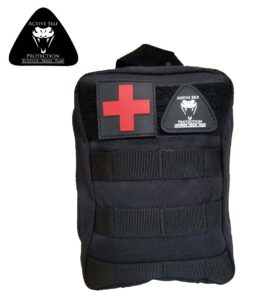 First, the kit includes the Ready Up Gear Osprey Tactical Molle Pouch. Designed to be attached via molle or staged in a bag, vehicle, or as needed, the Osprey is a large heavy-duty nylon bag. The pouch also has a strong Hook/Loop receiving zone on the front of the bag and comes with a Red-Cross standard medical patch and the signature ASP patch.
2x Combat Application Tourniquet (CAT) from North American Rescue. The patented C-A-T is a true one-handed tourniquet proven to be 100% effective by the U.S. Army's Institute of Surgical Research. Tests proved that the C-A-T completely occluded blood flow of an extremity in the event of a traumatic wound with significant hemorrhage. The current TQ of choice by the US Military and among the most used and recognized tourniquets in the world. Your kit will include 2.
1x 4″ OLAES Hemostatic Bandage. The OLAES® Hemostatic Bandage combines the globally recognized OLAES® Modular Bandage with battle-tested HemCon® ChitoGauze® PRO to create the most comprehensive trauma bandage for multiple injury profiles. Both proven life-saving devices are now together in a single, easily accessible package to increase any level of pre-hospital care provider's treatment capabilities while reducing application times and saving space in your kit.
4 Pairs of Blue Nitrile Gloves. These are durable, non-allergenic, heavy-duty nitrile gloves designed to be easy to pack and fast to deploy. These are size Large, designed to fit an overwhelming majority of American adults.
1 Pair of full-size orange handle trauma shears. Made with quality in mind these shears have been tested to ensure they will hold up to critical medical incidents and trauma. Sharp shears and can cut various hard objects. 7.5 inch long, stainless steel blades with milled serrations, injection-molded handles and steel-reinforced carabiner make these the best quality EMT shears. Durable, Fluoride-coated non-stick surface with high-impact handles made to last for years.
2x North American Rescue Hyfin Compact Chest Seals. Designed with 3-vented channels that allow air to escape the chest cavity during exhalation but prevent air from entering through the injury site during inhalation. Each HyFin Vent Compact Chest Seal is 4.75" x 4.75" and made with advanced adhesive to provide a superior adhesion in the most adverse conditions, including sweaty or hairy casualties.
1 ChitoGauze (3″ x 4yd Z-Fold). HemCon® ChitoGauze® XR PRO is a revolutionary hemostatic dressing for the external, temporary control of severely bleeding wounds. This dressing features a polyester/rayon blend non-woven medical gauze that is coated with chitosan. It is Z-folded and packaged in a vacuum-sealed pouch that is compact, rugged and features Red-Tip Technology®.
1x Mini Black marker. For use in taking notes during a critical incident, marking time on a tourniquet, etc. Permanent ink writes on paper, plastic, metal, skin, fabric, and most other surfaces. Smear resistant ink dries quickly and resists fading and water.
1x North American Rescue Mini ETD. The NAR Mini Responder ETD is a compact compression bandage designed to provide an effective pressure bandage when reduced packaging size is required. The small, compact packaging with easy-open Red-Tip Technology® tear notches allows the Mini Responder ETD to be stored on the person in pant pockets, shirt pocket, trauma plate pouches, etc.
1x Rescue Blanket. This survival blanket is especially low-weight and low bulk. It is made if heat-reflective thin plastic sheeting. The design reduces heat loss in the body which makes them fantastic for emergency situations.
1x Elastic Bandage with Hook/Loop Self-Closure. High-quality elastic bandage with convenient hook and loop self-closure so you can easily self apply without trying to use clips or other common systems. Made from a cotton / polyester knit construction for moderate compression treatment.
1x Compressed Krinkle Gauze from Dynarex. Made of pre-washed, fluff-dried woven gauze that is soft and absorbent. Folded and compressed this bandage will expand to cover a large area or wound. Single-use, sterile gauze dressing measures 4.5 inches by 4.1 yards when open and unfolded. The compressed size is 2 5/8 x 2 1/8 inches.
1x Cravat (Triangle Bandage). The triangular bandage (cravat) is ideal for splinting, outer layer wound bandaging, etc. Bandage measures 36″ x 36″ x 51″. Individually packaged. Each bandage includes 2 safety pins. A basic first aid bandage that can be used as a sling for shoulder and arm injuries. Also effective as a pressure dressing or wrap to hold dressings in place.
2x Instant Cold Pack (Non-Toxic). These Dynarex Cold Packs are flexible and conform to the contours of the body, activating with a single squeeze. These Cold Pack provide instant cold therapy for minor injuries, making them ideal for first aid kits, sporting events, schools, and home use.
1x Self-Adhesive Bandage Wrap. Dynarex Sensi-Wrap Bandages are lightweight bandages that are self-adherent that can easily be torn without scissors. These Sensi-Wrap Bandages stick to itself, but not to other materials or skin.
A basic assortment of first aid items to include 4 packets of burn cream, 4 packets of triple antibiotic ointment, Tweezers, 10 adhesive bandages (compare to Band-Aids).
*Note: Kit ships unassembled so the customer can pack the pouch as desired.