A Review of the Lowest Cost, Highest Value Trauma Kit on the Market: The Sweetwater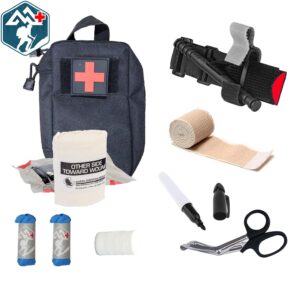 I recently published a video to the Mountain Man Medical YouTube Channel about a dog attack that left a man severely mauled by his own pets. In this situation, a deputy arrived and needed to shoot the dog before the scene was safe enough for the victim to be treated for his grievous wounds to arms and legs.
Emergencies happen any time, day or night, and it's only those who are well prepared that can make a difference. Sometimes it's the small things we do to prepare that's enough to make the difference between life and death at the end of the day.
One of the founding principles behind Mountain Man Medical is ensuring everyone has access to quality bleeding control, no matter what their income. Everyone deserves the tools to stay alive, and the knowledge how to use those tools.
This is why we offer the Emergency Trauma Response course completely free. It doesn't do us any good to sell a product that won't be used properly when it counts most.
The Sweetwater Trauma Kit is the Mountain Man Medical response to creating a low cost, high value trauma kit that's focused heavily on bleeding control.
Named for one of the water highways used by the Wyoming mountain men in their trade routes, the Sweetwater is compact enough to take anywhere, and well stocked with top-of-the-line gear to handle most types of emergency bleeding.
Below is a list of items in the kits, as well as some available upgrades to improve the effectiveness of the kit in an emergency.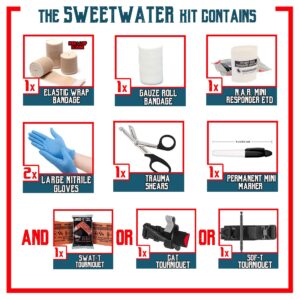 1 Elastic Wrap Bandage Hook/Loop Self-Closure – 2 inch x 5 yards (Dynarex)
1 Gauze Roll Bandage – 2 inch x 4 yards (Dynarex)
Black Permanent Mini Marker
Trauma Shears
2 Pairs Large Nitrile Gloves
Mini Emergency Trauma Bandage (North American Rescue)
Black "Falcon" Pouch with First Aid Patch
This kit comes with all the basics you need to treat life threatening bleeding. More is always better, however, so now that you have the basics of what you need, you can always add more as your budget allows.
More wound packing material, such as QuikClot or ChitoGauze is great for bleeding control but can be a little pricey. A great second option is normal Krinkle Gauze, which is almost as good as the clotting gauzes, and much, much less expensive.
You can also never go wrong with more tourniquets. Having one is good. Having 4, (one for each limb) is great.
Excellent tourniquet options include any of the following:
Whether you purchase a trauma kit from us or not, I highly recommend you take our free course, Emergency Trauma Response. It doesn't cost anything but your time and attention and will teach you, and your friends and family the basics of bleeding control and emergency scene management.