House Explodes With 6 Firefighters Inside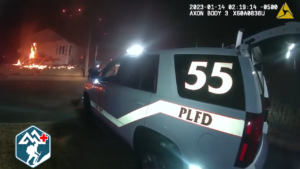 Incredible footage of a blast that nearly killed 6 New Jersey firefighters in January shows how close they came.
On January 14th, 2023 at around 2 am, a Pompton Lakes Police officer was patrolling through neighborhoods when he noticed smoke coming out of a home. He immediately stopped and knocked on the door of the residence.
Tom Garret, the homeowner, answered the door and talked with the officer, admitting he didn't know why smoke was coming from his home.
"He (the officer) came out and said 'You ain't going back into the house pal, stay outside,' and he was the one who called the fire department," Garrett told NBCNewYork4.
Pompton Lakes Fire department responded to the officers' report of a fire, and were quickly on scene to assess the situation.
One spokes person of the department told Foxnews.com,
"Within a couple minutes of their entrance, and while using a thermal imaging camera to locate the problem, the home literally exploded, injuring some members manning the hose line at the back of the home and partially trapping others in the basement,"
6 Pompton Lakes Firefighters were in the home and were trapped for a short time in the basement after the mysterious explosion.
"I thought we were going to have six fatalities, I really did," They managed to climb out of the basement with compromised stairs. They all helped each other out, they came out one at a time and we were at the back door, just feeding them out."
2 of the firefighters were treated for their burns at a local hospital while the others were treated at the scene and released. The cause of the explosion is still unclear at this time.
Blast injuries are treated like all other types of trauma. And understanding the mechanism of injury will help us determine what wounds we might expect to encounter:
Burns
Shrapnel
Amputations
Traumatic Brain Injury (TBI)
Knowing how to deal with these types of wounds is good for all other areas of life too, and especially if you happen to be near an explosion like this, and you have the inclination and ability to assist.
First and foremost, your safety is always the top priority. Make sure you are in a safe place before you attempt helping with the injured. Emergencies, especially ones with explosions, tend to change suddenly and the place you first thought to be safe, may not be at all.
Learn the essential skills of saving a life with the Emergency Trauma Response Course. It's 100% free and online to minimize impact on your life, and maximize knowledge for future efforts.
Information about this story was found at these websites:
https://www.nbcnewyork.com/news/local/new-jersey-house-explodes-overnight-with-5-volunteer-firefighters-inside/4047683/
https://www.foxnews.com/us/bodycam-footage-shows-nj-house-explosion-firefighters-still-inside
https://www.usatoday.com/story/news/nation/2023/03/01/pompton-lakes-nj-house-explosion-bodycam-footage/11374241002/
https://abc7ny.com/house-fire-explosion-pompton-lakes-body-camera-video/12890777/