3 Reasons Why Some HATE This Popular Tourniquet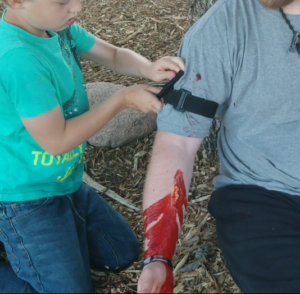 There are hundreds of tourniquets on the market, and some have designs that work better than others.
Not all TQs are constructed the same and many are plagued by problems that keep them from being recommended by the Committee for TCCC. That great and all-knowing government think tank created to find the best products for our troops to use in combat.
Their recommendation has become the industry standard when choosing the right gear for the job.
"If our boys overseas are using it, it must be good enough for me."
But not everyone agrees with this sentiment.
I have run into numerous people who have problems with the # 1 tourniquet on the market and their concerns are not without merit. While I do not share these views on the CAT, I also trust the men who've told me their experiences.
Let's look at 3 reasons why some people HATE the CAT tourniquet.
Hook and Loop
I have met some warriors who report having used a CAT in very sandy and/or muddy environments and the hook and loop would become clogged with sand and mud and fail to keep the TQ secured on the casualty.
I've been in many sandy and muddy environments and used many CATs during those times. I have never once experienced a problem with the hook and loop becoming clogged and refusing to secure.
But if you are in a lot of dangerous sandy and muddy places, this might be a concern for you.
Plastic Windlass
The plastic windlass on the CAT is a particular sore spot for some people, especially if that person saw combat in IOF and EOF military operations.
Early in these conflicts, the CAT was still a very new life saving apparatus and most troops didn't understand what they were, or how to use them. Many were repurposed to tie down extra gear to the tops of vehicles heading into combat.
In these early years of conflict and tourniquet development, the CAT windlass went through many changes in the material design and construction processes to improve on the CATs over all structure and reliability.
The CAT is currently in the 7th generation of manufacture, and I've not heard a single report of there being any issues with the new, more robust design. That doesn't mean there have been no failures, but the frequency has been drastically reduced.
Cost
The nearly $30 price tag on each CAT has caused a lot of people to question why these tourniquets are so expensive.
Surely these TQs, especially being made of plastic, are not that expensive to produce. Why the high price tag?
I don't know for sure. But I suspect that $30 is what the CAT is being sold to the US military for. They are not allowed to sell a product to the US Government for one price and then sell it for less to someone else.
With the US military and police departments being the primary purchasers for these TQs, and the company controlling CAT profits does not want to lose out on that sweet $30 per TQ. Leaving us to payout the high price tag for an important piece of gear.
Is there a better option if price is prohibitive?
Unfortunately, no. There may be cheaper TQs out there on the market, but none that have the significant track record and reliability that the CAT does.
Many other TQ companies have followed the example of the CAT and price their TQs in the $30 range as well. So even if you want a different type of TQ, you'll still be paying the same price.
If, after reading this, you decide that the CAT is just not the right tourniquet for you.
So, what are the other options? Next week we'll look at several alternatives to the CAT that may work for you.
Check out our FREE online course, Emergency Trauma Response so you know how to use that fancy new tourniquet of yours.