Cop Shoots Fellow Cop: "I thought he was gonna rape me!"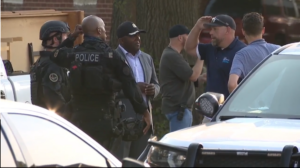 In the early morning hours of January 25th 2023, Williamsburg 911 dispatchers received a call from a distraught man claiming to be a James City County officer who'd just intentionally shot a fellow officer.
"I pulled a gun on him because he was **** advancing on me. I told him 'no' and he just kept going. I told him to stop. He kept going. I thought he was gonna rape me," he said.
The caller identified himself as Michael Rusk, and the officer he'd just shot, as Sergeant Christopher Gibson. Responding officers took Rusk into custody and Gibson to the hospital for treatment of three gunshot wounds. One bullet grazed his cheek, one entered his shoulder, and the other tore a hole in his abdomen.
Rusk was placed on unpaid administrative leave and charged with malicious wounding, use of a firearm in commission of a felony, and discharging a firearm within city limits. He has been placed into the care of his parents at their home where he is allowed to stay if he has no access to drugs, alcohol, or weapons.
With Rusk being charged as the assailant in this case, surveillance footage and dispatch records indicate that Rusk may have been defending himself from the aggressive sexual advances of his superior officer, Sergeant Gibson.
According to Rusk's father, Jason, the unwanted advances had been occurring for some time, even though Police Department leadership had been informed of the harassment.
"But it started to get creepy. (Gibson) would just show up out of nowhere, on streets where Michael's girlfriends lived," he said.
"There was extremely inappropriate touching. The stalking, the grooming," Jason told WAVY.com.
Surveillance footage of the incident, also obtained by WAVY.com, shows the two officers drinking together at a local bar for many hours into the night of the shooting. Also seen in the footage, Rusk apparently turning down multiple advances from Gibson.
Peyton Akers, one of Rusk's lawyers, says his client is in a good position to prove a justified shooting:
"If our client was a female, this case would be drastically different. It's a clear self-defense issue. It's very unfortunate that the narrative that's out there isn't the narrative that's going to come to light at trial, if this goes to trial. I believe the 911 call will play a major role in our client's innocence."
The Wrap Up
This is a different situation than we normally review here. A different type of "Blue on Blue." There are a variety of ways that we could look at this situation. And a lot could be said about the mistakes both officers made to put themselves in this terrible situation.
However, I'm going to come at this from the innocent bystander approach. You are enjoying a nice night out with your sweetheart, away from the kids for once, when you round the corner and happen upon this scene…
This is a very dangerous situation for any civilians and bystanders. We must approach this scene with extreme caution. A heavily distraught man with a handgun is a recipe for disaster.
This is an example of how someone might be thinking 'Oh, there's a cop here, he can handle it.' But the cop might be the problem. He might be the threat and we need to be aware of that.
As a CCW holder this is also a scenario you should be prepared for. Say you witness one man shoot another. Should you draw your weapon and engage the shooter when you don't understand the situation? It just might be a self-defense encounter, and it could be an off-duty officer.
Below are 4 things to think about when treating medical wounds such as the ones described in this article:
Wound packing is the only thing we can really do here. We don't pack the abdomen or chest, so we might be able to pack the shoulder wound with a hemostatic gauze and then apply a pressure dressing.
Making that call to 911 yourself is very important, even though the officer is on the phone. He is so distraught that he is not relaying clear accurate information. You talking to another dispatcher and communicating clear and concise directions could expedite EMS and LE response times.
Use hands free, Bluetooth, or phone speaker to talk to dispatch while working to control bleeding.
Look for help in the form of bystanders. Try not to do this alone. Organize those around you into a team to maximize success.
If you would like to learn more skills to save a life, head over to the Emergency Trauma Response Course. It's totally FREE.
Information obtained from the following sources:
https://www.dailypress.com/news/crime/va-vg-officer-shooting-update-20230217-lo7jlj7cljgctj67tvl43pzyjy-story.html
https://www.newsbreak.com/williamsburg-va/2980480501258-james-city-police-officer-who-shot-his-sergeant-i-thought-he-was-going-to-rape-me