The H&H Mini Compression Bandage is Discontinued! Here are Other Options …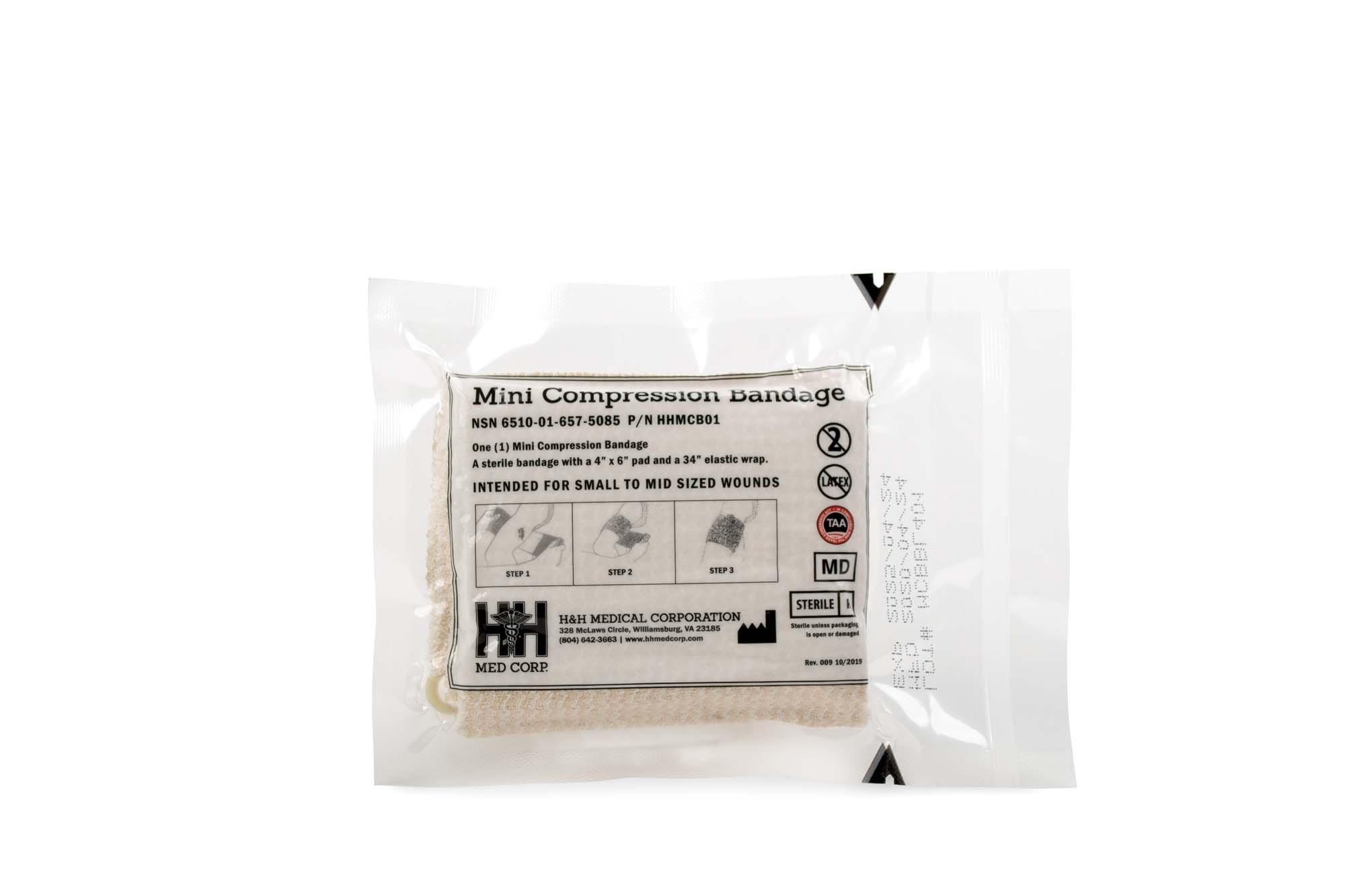 There are many different forms of bandages, and a good pressure dressing is an essential part of any well-rounded trauma kit.
This style of bandage is important for bleeding control because it holds wound packing material tightly against the bleeding artery. This allows the first responder to pack the wound, apply the pressure dressing and move on to work other wounds or casualties, confident the gauze will stay intact and working as needed.
These pressure bandages come in a huge variety of shapes and sizes. Rolled, or flat packaged, small to very large, each one fills a necessary role in some part of the trauma care. Choosing the right one for you may be a bit overwhelming if you don't understand some of the intricacies of how these specialized bandages work.
The H&H Mini Compression pressure bandage has recently been discontinued a replacement product is being offered with similar forms and functions.
The primary benefit of this small bandage is the portability and the packability for civilians to carry trauma gear more efficiently. Large bandages are great and better when you can get them, but few of us are rolling around with the kind of capital to afford it, not to mention none of us have the space of a fully stocked ambulance.
Below are a few options that fill the role of compact pressure bandage which are easy to carry and might be be just what you're looking for.
Tramedic® Trauma Bandage $4.99
Distributed by Tac Med Solutions this bandage is similar in size, but just a little thicker than the H&H bandage.
The Tramedic® Trauma Bandage is a simple, effective pressure dressing designed to treat non-life-threatening hemorrhaging. It utilizes an elastic wrap material that can be used to generate pressure and a sterile wound pad that can be placed directly over the injury to aid the control of bleeding. The bandage is flat folded and vacuum-sealed to create a low profile so it can be easily stored.
NAR Mini Responder 4in ETD $6.99
Small, compact packaging
Flat folded
Both hook and loop as well as C-Clip securing device
4 x 6-inch non-adherent sterile pad
42-inch elastic bandage (unstretched)
Sterile unless package is opened or damaged
FORWARD Compact Wound 4″ Compression Bandage $5.70
Forward Compact Wound Compression Bandage is a light weight wound dressing that features a 4" x 5.5" light weight trauma pad attached to a 34" compression wrap.  The compression wrap features a hook and loop closure for rapid application.  The Forward Compact Wound Compression Bandage is intended for applications where cube space is limited and is ideal for concealed compact medical kits.
Tear notches on all 4 corners
Compact durable packaging
Sterile
5-year shelf life
TAA Compliant
OLAES® HEMOSTATIC BANDAGE $44.75
By far the best on this list, but also the largest and the most expensive, by a lot.
But this is hands down the best battle dressing on the market. The easily recognizable cup on the OLAES acts to increase pressure over the wound site for better bleeding control, while the hidden pocket behind the absorbent pad is stuffed with hemostatic Chitogauze, making it extremely efficient for space management by eliminating the need to carry 2 separately packaged products.