It's Bodacious*! The New Wind River Medical Kit by Mountain Man Medical
*Bodacious

Bo-da-cious:

adjective

Excellent, admirable, or attractive.

Audacious in a way considered admirable.

"The Wind River is a bodacious medical kit!"
The Yellowstone and Sweetwater trauma kits, our flagship products, hit the market to wide acclaim and remain very popular with our customers.
But now comes the time to release the next installment in our line of quality medical gear.
We take great pride as a company to provide the best possible gear at prices affordable for everyone, and requests have been flooding in for us to sell a more comprehensive kit able handle everything from major trauma to minor injuries.
Trauma
The Wind River is designed for those who are looking for the ability to treat a greater number of casualties and a greater variety of problems.
This kit boasts an impressive collection of top-of-the-line gear for treating life threatening bleeds with three included tourniquets, QuikClot and pressure dressings, and chest seals for penetrating trauma such as gunshot wounds.
This makes it the ideal quick response gear for organizations such as:
Gun ranges and firearms instructors
Schools
Churches
Businesses
And patrol officers looking to beef up their department issued gear.
Placed in strategic locations, the Wind River gives you and your people the tools needed to succeed in a life or death emergency with enough gear to treat multiple casualties, or a single casualty with many life-threatening wounds.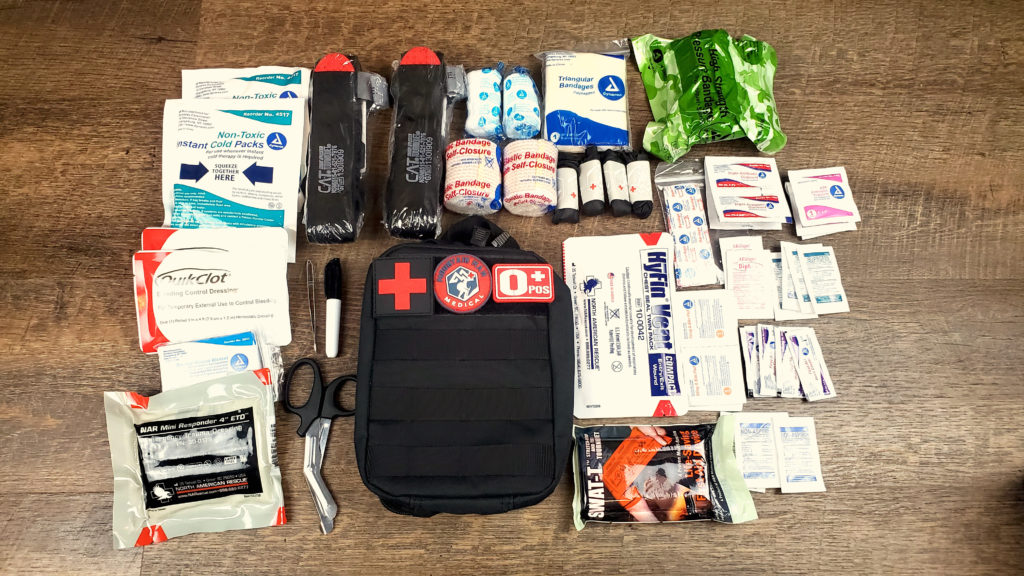 First Aid
Not every problem is an emergency. Trauma gear is important, sure, but having a few items for the day to day medical problems like splinters and small cuts makes life easier.
The products stocked in the First Aid Pocket are based on what I used daily as a medic and EMT. Everyone is different and might want to include items suited to their specific needs, but the more useful over the counter meds like ibuprofen and antihistamines have been anticipated.
"Here, take this Motrin. Have you changed your socks today?" — FMF Line Corpsman
Speaking from experience, having a few comfort items on hand to treat minor burns, headaches, nausea, and allergies is a sure way to become an easy hero with friends and family.
Training
Selling kits is great, but Mountain Man Medical realizes that all the gear in the world is useless if you don't know how to use it effectively. This is why we offer an online course. Completely free.
The Emergency Trauma Response online course is perfect for learning the basic skills you need to use the Wind River kit and maximize it's potential for saving lives.
With the lockdowns due to Covid-19, this makes it an ideal way to learn essential skills from the safety of your own home.