New and Improved CAT Clone? The Recon Medical TQ Review
I've never thought more about tourniquets then I have in this job. Bleeding control being such an important topic of discussion means devoting a good amount of time to all the various ways people have developed to save lives.
It takes some time to run through all the various options out there, and this week we're looking at the Gen 4 Recon Medical Tourniquet.
But first, before we get into all the little details, we have to address something important.
The Co-TCCC Pulls Serious Weight.
If you're new to the world of emergency medicine, CO-TCCC means the "Committee of Tactical Combat Casualty Care." This is a government funded think tank tasked with researching and developing the best practices for combat medicine. One of their areas of interest is gear they feel is acceptable for use on the battlefield, including but not limited to tourniquets.
For a tourniquet to be widely accepted by the civilian market, it helps to have this coveted approval by the Co-TCCC. Approval by this think tank means that the TQ has been thoroughly tested and will work to control massive bleeding from the arms and legs.
This is important so we're reassured these TQs will save our lives when we need them to. Not every TQ design out there is a good one, so some sort of vetting system is important.
This is the first downfall of the RECON TQ. In 2019, the Co-TCCC updated it's list of TQs that made the cut, and the RECON did not. I'm unsure if the TQ was submitted and failed to meet the testing requirements, or if it was developed after the 2019 revisit by the Committee and has yet to be submitted at all.
Either way, this makes the Recon TQ a bit of a wildcard, or an unknown, since there isn't any data or experience backing it up. Part of why the CAT is so popular is because of the overwhelming preponderance of evidence that shows it saves lives. It's hard to beat that kind of publicity.
However, I frequently recommend the SWAT-T as a viable option for a civilian EDC TQ, knowing all the while that it isn't approved by the Co-TCCC. So, I'm well aware that not everything the military does is the right mentality, or tactics a civilian should employ.
My point is this:
Understand that the RECON TQ hasn't been as well tested as the CAT or SOF-T tourniquets, and therefore you must accept another level of risk when deciding to choose the RECON over those more popular TQs.
I'll leave that decision up to you if you're comfortable with that or not.
My Initial Impressions of the RECON Medical TQ.
The packaging of the TQ was difficult to get into, so make sure you're removing it from the wrapper as soon as you receive it to cut down on time and hassle when a life is on the line.
The TQ comes with a set of instructions that are easy to read and pictures to help you understand what's being described. Wedged in the strap, a UV resistant bag is thoughtfully provided to keep your TQ protected from the sun which will degrade the TQ material and weaken it.
The RECON is very similar to the CAT in style, so application is seamless if you've already been trained on how to use the CAT. The material and stitching appear robust and the TQ itself doesn't have a chintzy feel.
A finger hole is located at the distal end of the strap with the hopes that it would aid in the initial tightening during application and before turning the windlass.
I'm not sure how essential the finger hole would be since I've never struggled to pull the strap tight, but I don't mind it being there either and I suppose it might help in a pinch.
The windlass of the Recon is made from "Aircraft Grade Aluminum," which might be a selling point for those people who are hesitant to trust the plastic windlass of the CAT.
Hidden Tool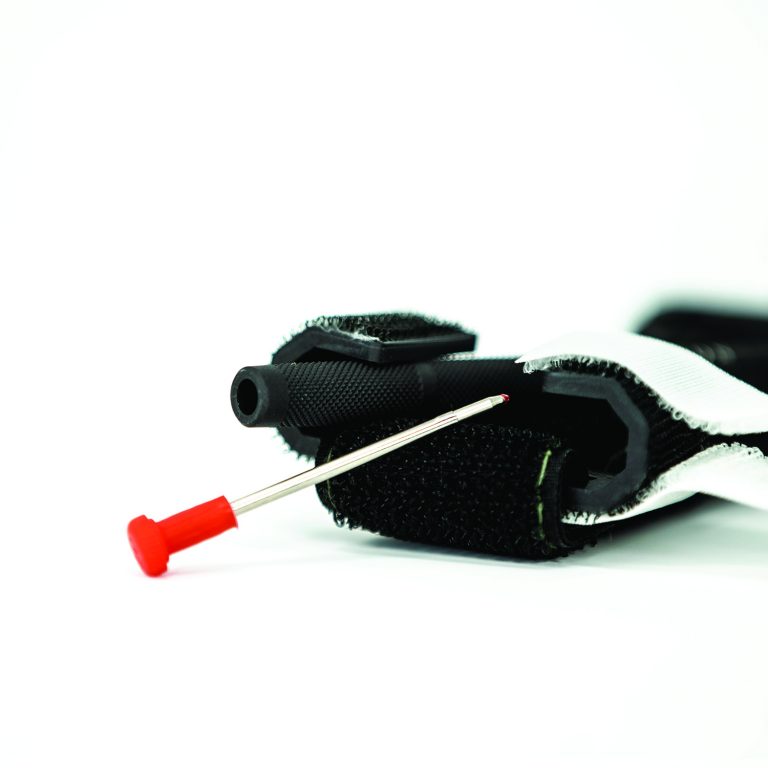 Nestled down into the empty space of the windlass sits a tiny ball point pen with a red plug. This is intended to be used to write the time of the TQ placement on the time strap, or for anything else where you might need to remember in an emergency (like vital signs). While not and essential piece of kit, I think it's clever, and a reasonable selling point. If you lose the one that came with your TQ, a new pen can be added to your next order for only $.50.
The Wrap Up and Final Thoughts
If this TQ had that coveted Co-TCCC approval, this would be a top contender in my book. But without that, it makes it difficult to recommend since I have no other assurance it will work like I'd expect it to.
That said, I think it offers a few well-thought-out options that other TQ producers haven't bothered with and I like the innovation. The hidden pen is a nice touch since I have a soft spot for secreted tools.
Mountain Man Medical doesn't sell this tourniquet, so you'll have to go to the Recon Medical website to purchase one.
If you'd rather go with something with an enormous preponderance of evidence backing it up, we sell the most popular TQs here.
Learn how to use your new TQ and everything else in your trauma kit with our free online Emergency Trauma Response course.