Free Medical Training at the Concealed Carry Expo in Kansas City
This year the USCCA's signature event, The Concealed Carry Expo returns and will be hosted in Kansas City from March 20th thru the 22nd.
Click here to learn more or register to attend but note pre-registration is not required.
For the first time, Mountain Man Medical will be attending the event and will be hosting some event official medical demonstrations.
Stop by booth 422 to see us and consider staying to watch one of our demonstrations.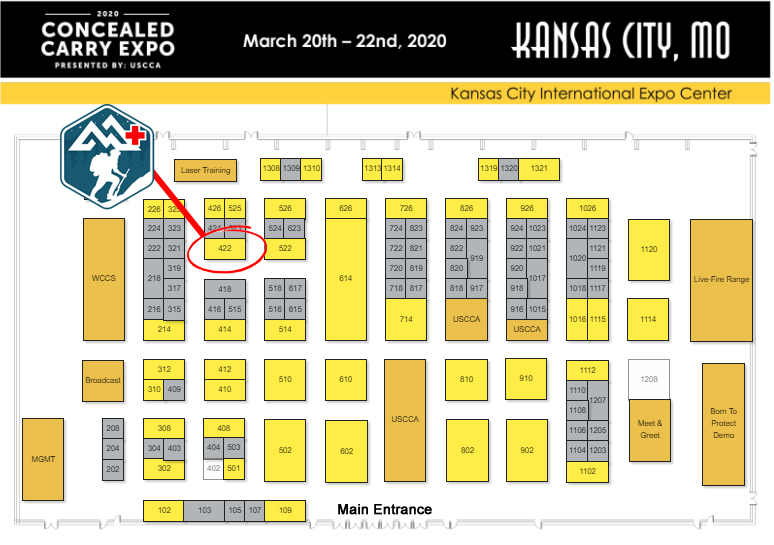 What follows is our current planned schedule for our demonstrations. If this changes we will update this webpage:
Friday, March 20th:
4:00pm – Treating Major Bleeding – Tourniquet Selection and Application
5:30pm – Packing a Wound and Stopping the Bleed Using QuikClot
Saturday, March 21st:
10:30am – Dealing With the 2nd Leading Cause of Death in Battle – The Sucking Chest Wound
12:00pm – Treating Major Bleeding – Tourniquet Selection and Application
2:00pm – Packing a Wound and Stopping the Bleed Using QuikClot
4:00pm – Improvised Tourniquets and Chest Seals
Sunday, March 22nd:
11:00am – Dealing With the 2nd Leading Cause of Death in Battle – The Sucking Chest Wound
1:00pm – Treating Major Bleeding – Tourniquet Selection and Application
3:00pm – Packing a Wound and Stopping the Bleed Using QuikClot